Are you looking for a Camp Hill Baby Photography Studio? Look no further! A little bit of cake smash anxiety for the birthday girl did not stop us from capturing some of the most adorable images of Miss Hannah! I love everything about her sunflower theme! But most of all, I love that she was one of my tiny 2020 newborn clients who came back to see me! I was so excited that Hannah's parents booked her a first birthday cake smash session way back when they were in the studio for her newborn ordering appointment. And, to me, that says they loved her newborn images so much! So much that they trusted me enough to capture this special milestone also! There is nothing that fills this photographer's heart more than the opportunity to photograph my clients again and again! To watch and document my little clients as they grow up is truly the biggest honor!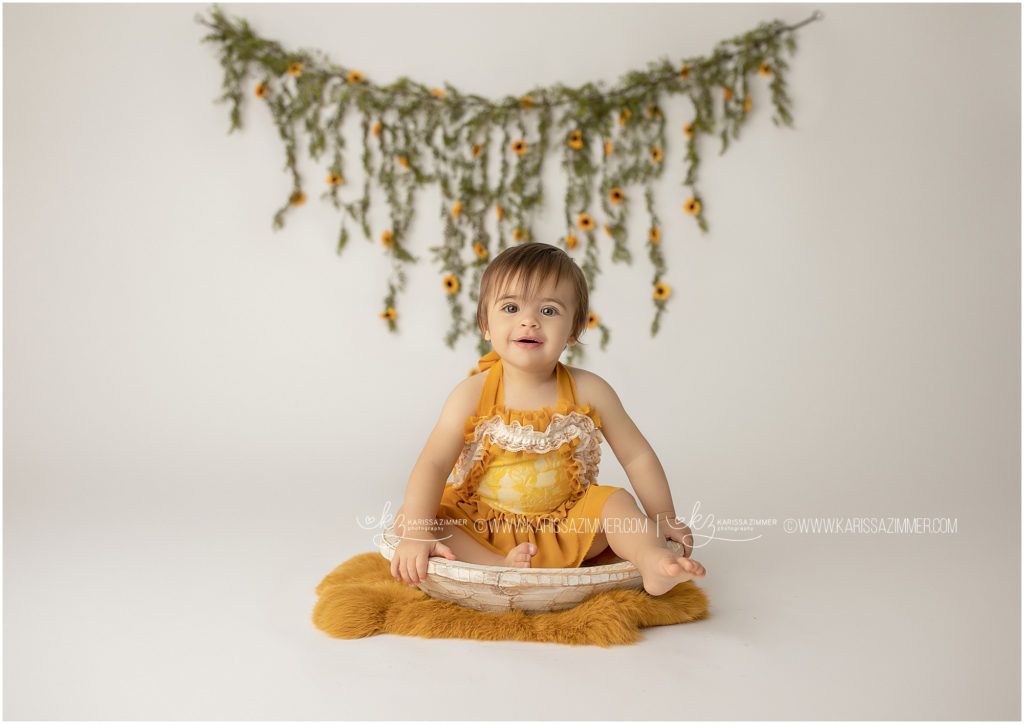 Planning a Cake Smash Session in the Camp Hill Baby Photography Studio
When it was time to start planning Hannah's cake smash session, her mama threw me a few ideas that she liked. Ultimately, she gave me the reigns! She trusted me to plan something beautiful for her baby girl's special session. When she said she liked bright pops of color including yellow I just knew where I was going to go with this! I think the fall season and sunflowers pair so perfectly! It's always my goal to plan and create a cake smash theme that is beautiful and timeless. I think everything about Hannah's sunflower session is perfect for an October baby! Once I knew where I was going with this, I contacted my favorite baker, Brittany at Baked By Brittany in Mechanicsburg, PA. Although I opt for simple cakes for my sessions, she is a truly talented artist and creates some of the most elaborate cakes I've seen! Be sure to check her out!
When to book a cake smash studio session?
Will your baby turn one this year? If you're wondering when to book your baby's studio cake smash session the answer is: It's never too early! As with all sessions, planning ahead is best! There is quite a process that goes into planning, customizing and making a first birthday cake smash session special! A first birthday session is something you'll want to have reserved at least two months prior to your baby's first birthday. Although, even further in advance is best!
My baby has a first birthday coming up! Where do I start?
Send me a message! I am here to help walk you through the entire portrait process! From the very first phone call we will have, through planning the most special cake smash session and all the way through delivery of your portrait art work! The first step is to reach out to me via my contact form. You can expect a phone call from me to start planning your baby's milestone magic!