Sitter session photography can create some of the most beautiful, treasured baby portraits you will ever have. Your baby is more alert than they were at their newborn session, able to engage with the session more and showcase their adorable budding personality. But, as with any photo session, parents always have one question for a Carlisle PA sitter session: what should we wear?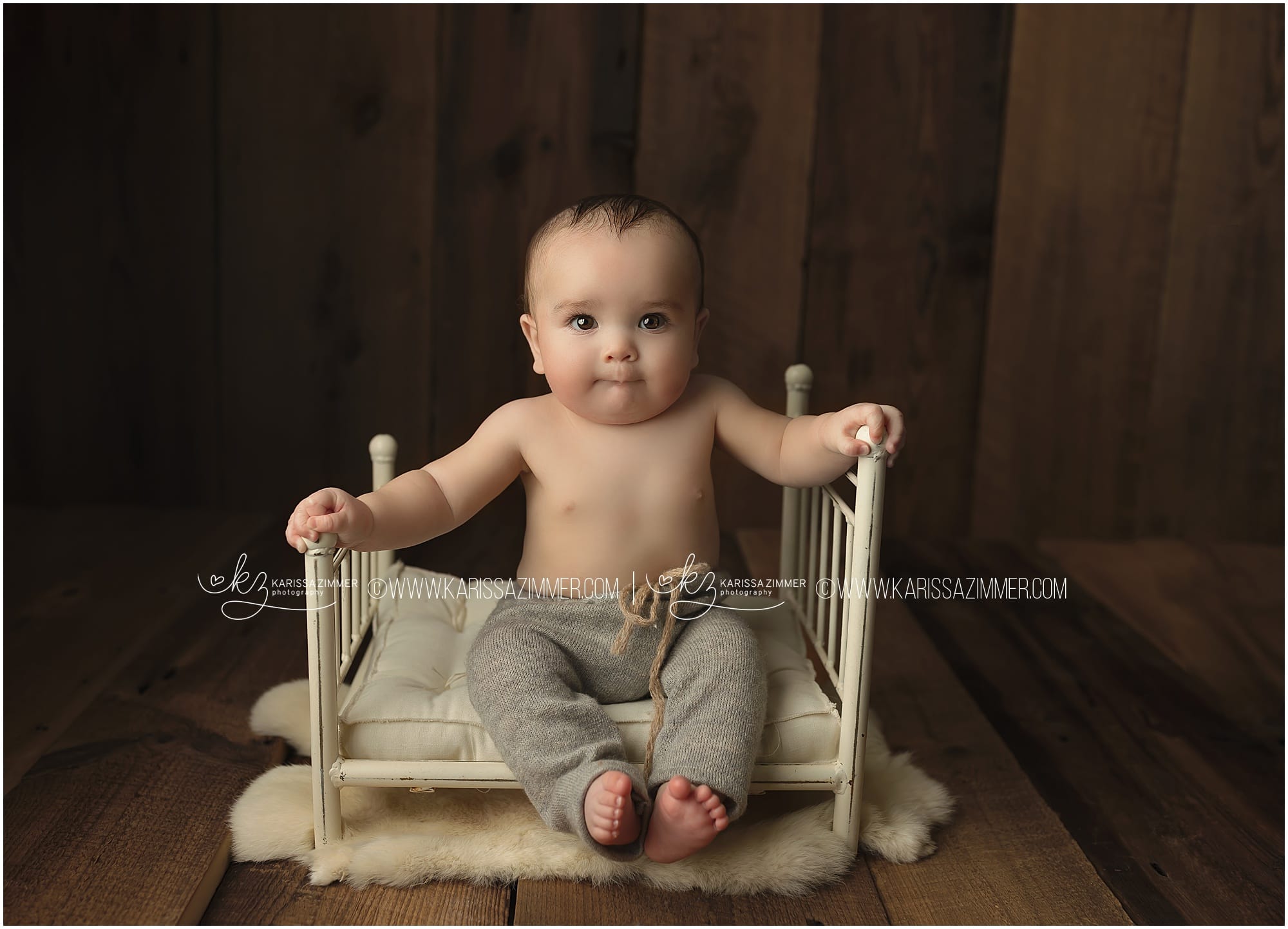 Tips for Planning Your Baby's Sitter Session Outfits
Planning your baby's sitter session outfits might be easier than you think! If you have a session in the books, follow these tips.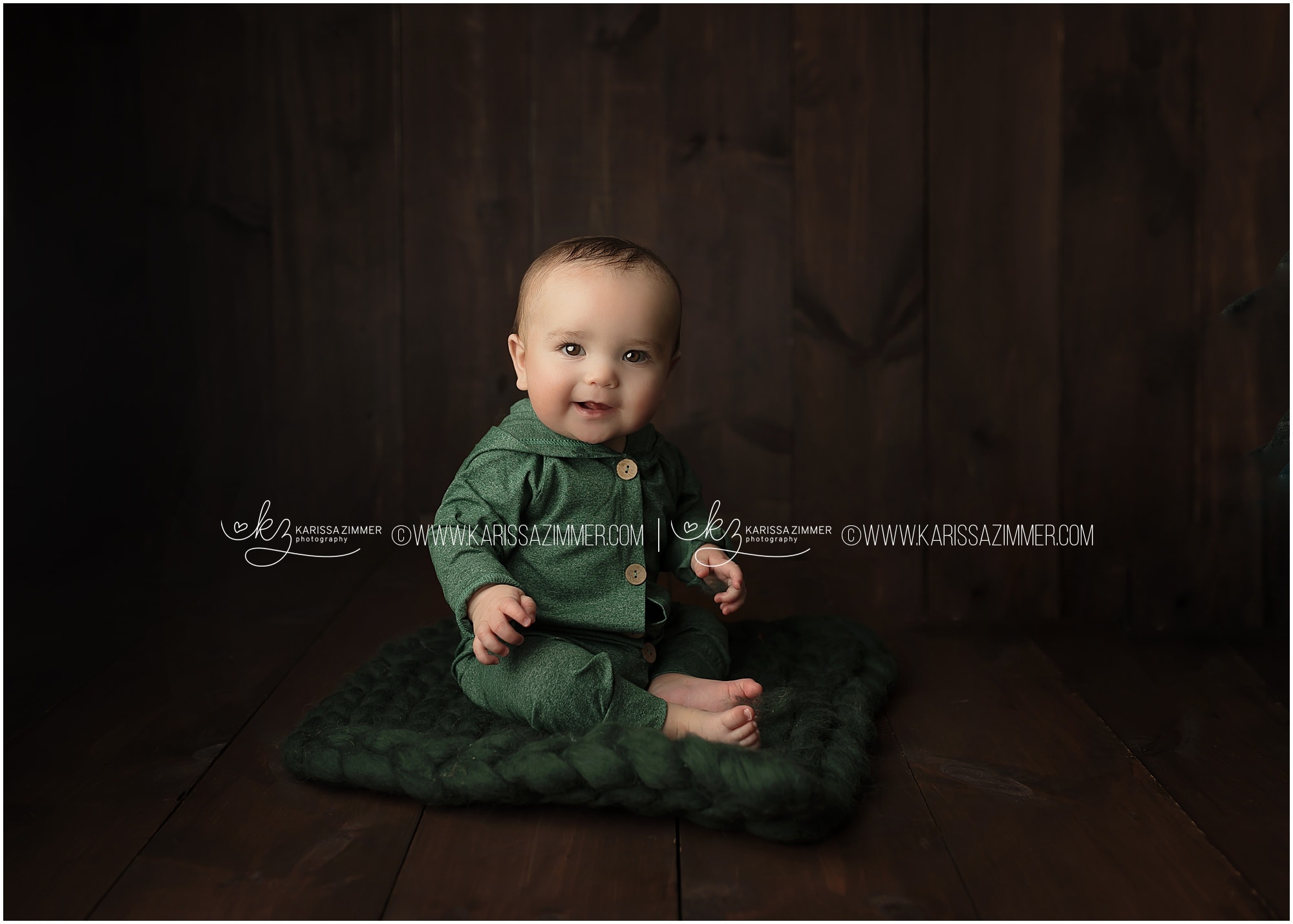 Find Out What Your Carlisle PA Sitter Session Photographer Provides
First things first, when it comes to wardrobe, talk to your photographer and find out what they have available. I have a well-stocked client closet so I can provide all the outfits and accessories you need for your sitter session! You can just come with your baby and your diaper bag.
Some families still want to bring some outfit options of their own too, and if you do, the rest of these tips can help.
Consider the Overall Looks for the Session
Before your photo shoot, I'll take some time with you to plan and style your session, including the looks and themes you want to incorporate. Whether you're envisioning a particular theme, a vintage aesthetic, a feminine look, or something classic and timeless, I'll design your session in a way that captures the look you want along with my artistic style.
If you're planning to bring some outfits or accessories to add to the selection for the photo shoot, keep that planning conversation in mind. Choose items that align well with the looks we're going for.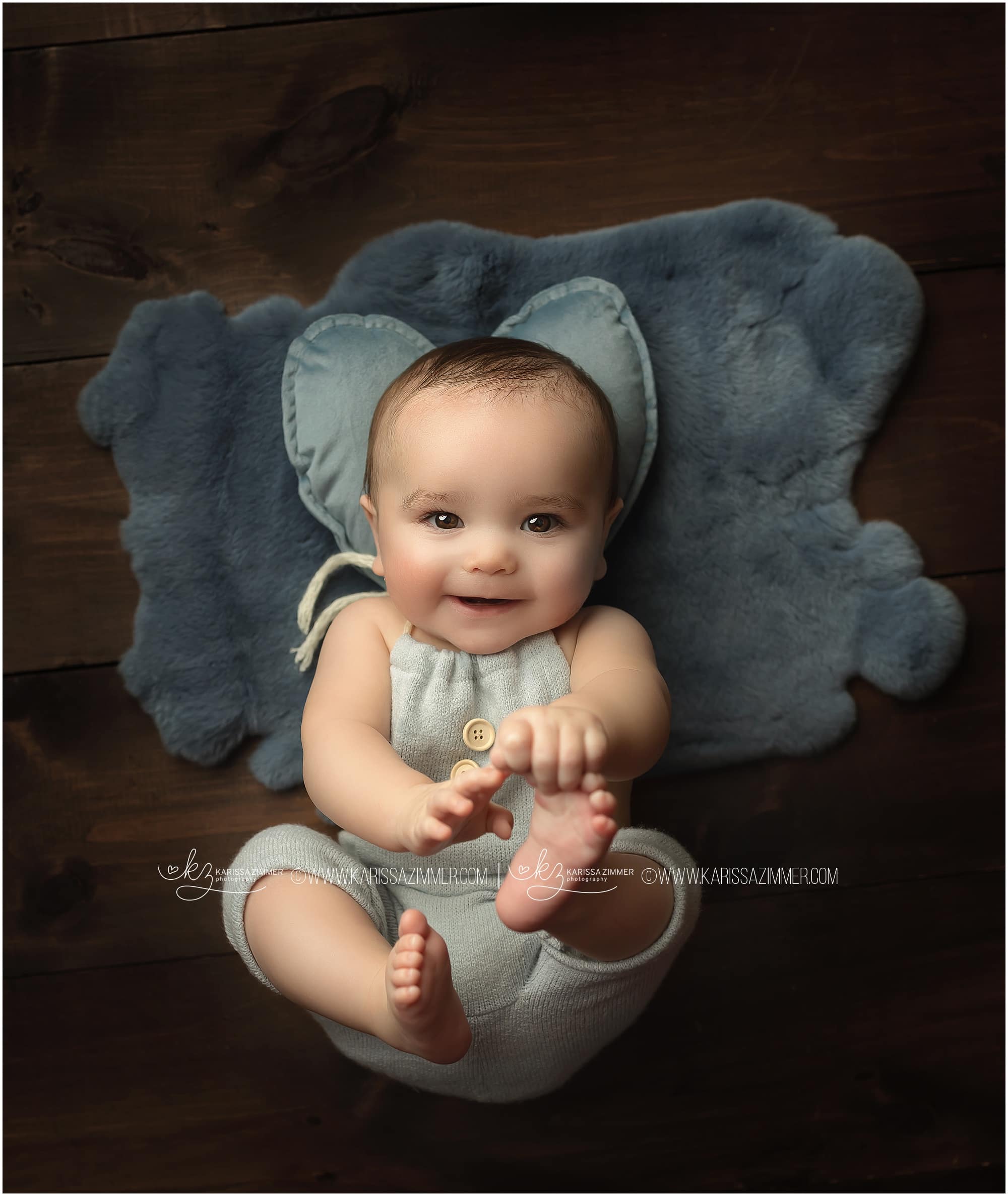 Go for Snug Over Loose
It's common to buy clothes that are slightly big on your baby because they grow so quickly, and that's a great strategy for your home wardrobe…but not for a photo session. It's better to choose pieces that fit your baby well and aren't too loose on them. Otherwise, the items won't lay as nicely and will be constantly moving around and needing to be adjusted during the photo shoot.
P.S., here's a bonus tip: always have your baby try on the outfits you're bringing to your sitter session a few days in advance. You always want to know for sure how they'll fit rather than making your best guess.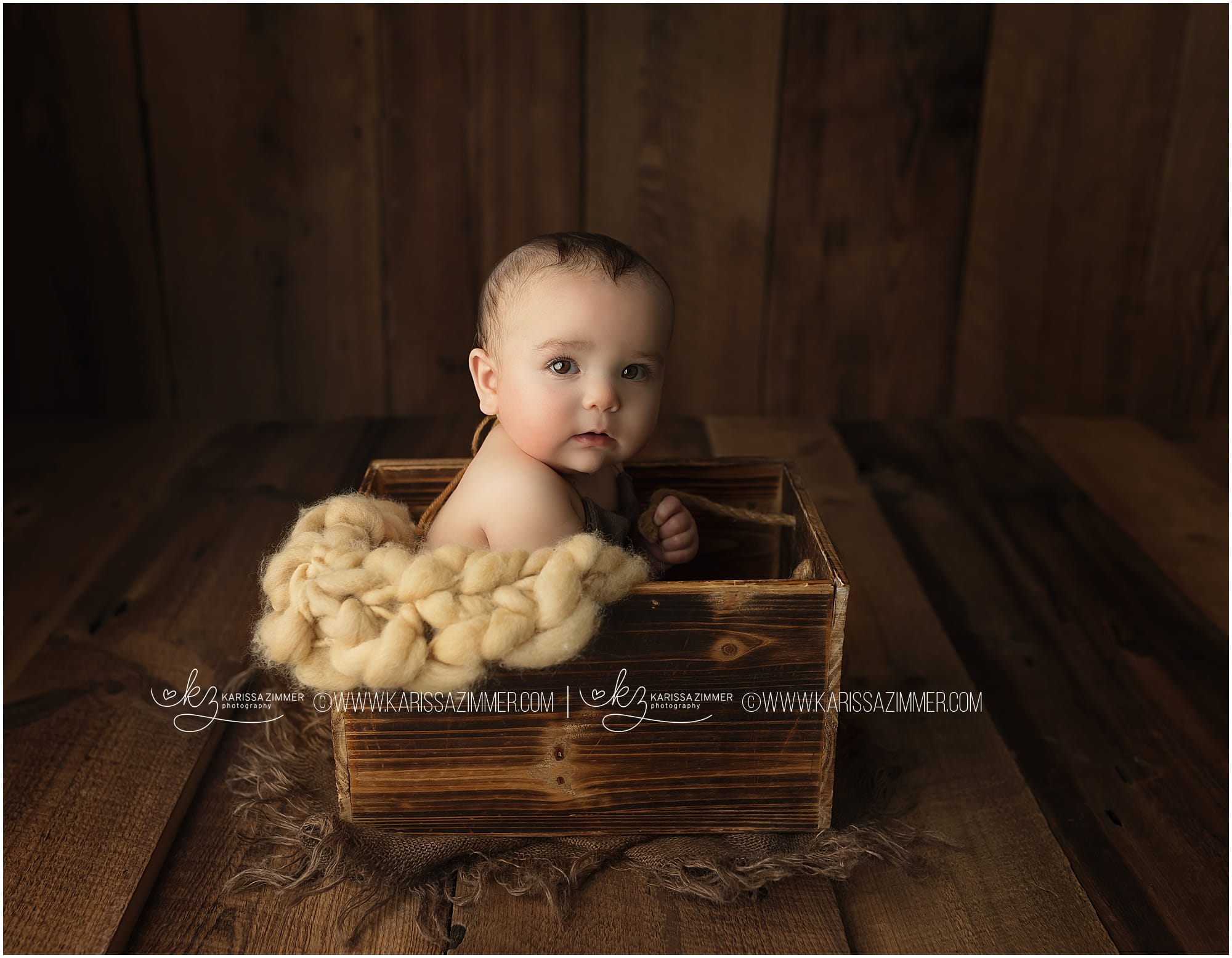 When in Doubt, Go Neutral
For any baby photography (or any photography in general), you can't go wrong with neutrals. Every baby looks great in white!
If you don't go for neutrals, stick with pastels and items that aren't overly attention-grabbing. Avoid bold patterns, bright colors, and anything else that could take attention away from your baby, unless we're purposely incorporating a particular look or color scheme that we've discussed in your planning session.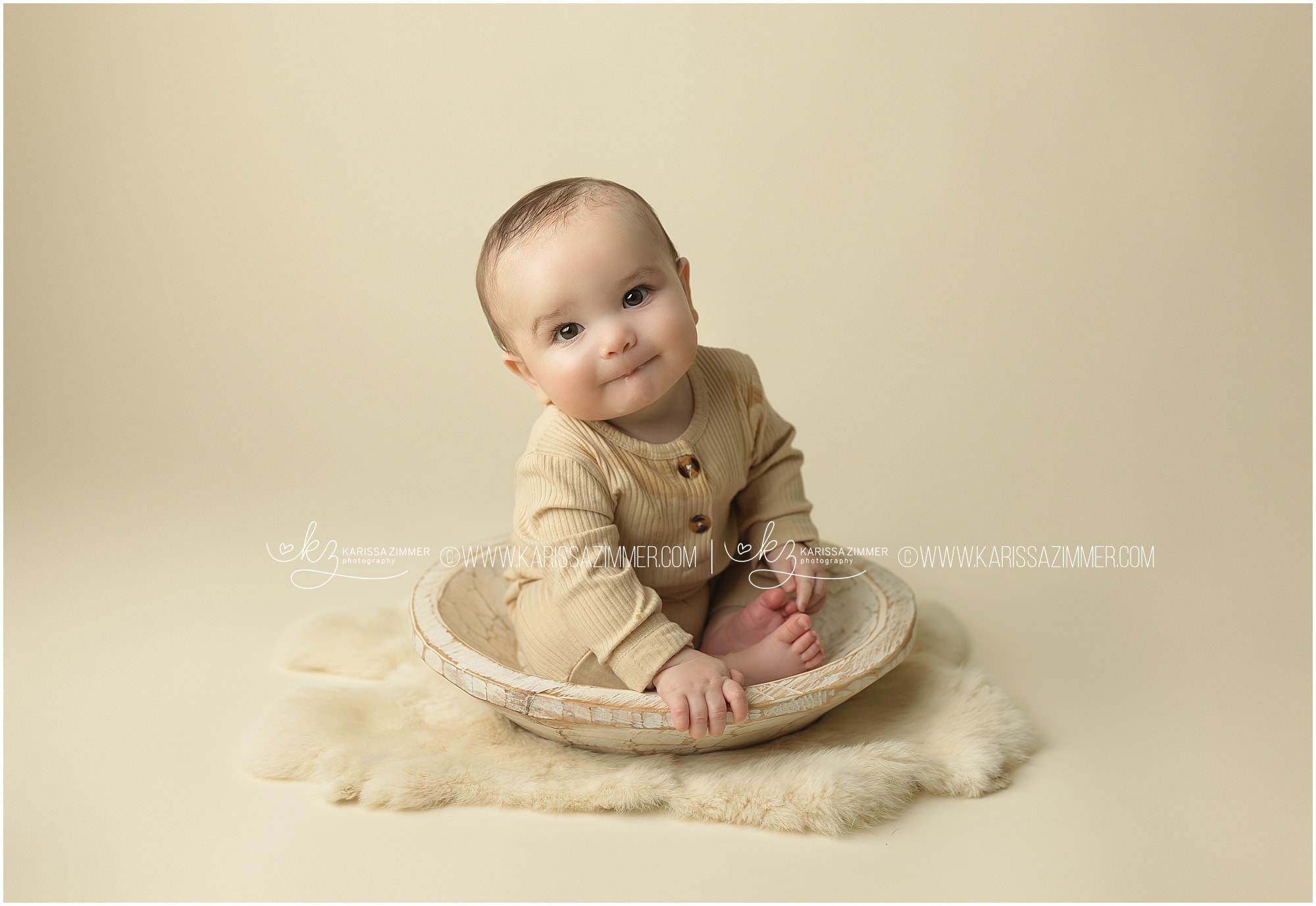 Don't Stress About Your Carlisle PA Sitter Session Outfits – I've Got You!
You have a big job at home: raising that adorable little one of yours. Please don't add to your stress by trying to find beautiful sitter session outfits! I have everything you need. If you have items you love and want to bring to the session, that's great, but if not, I have enough items to create a beautiful and truly special sitter session for your baby.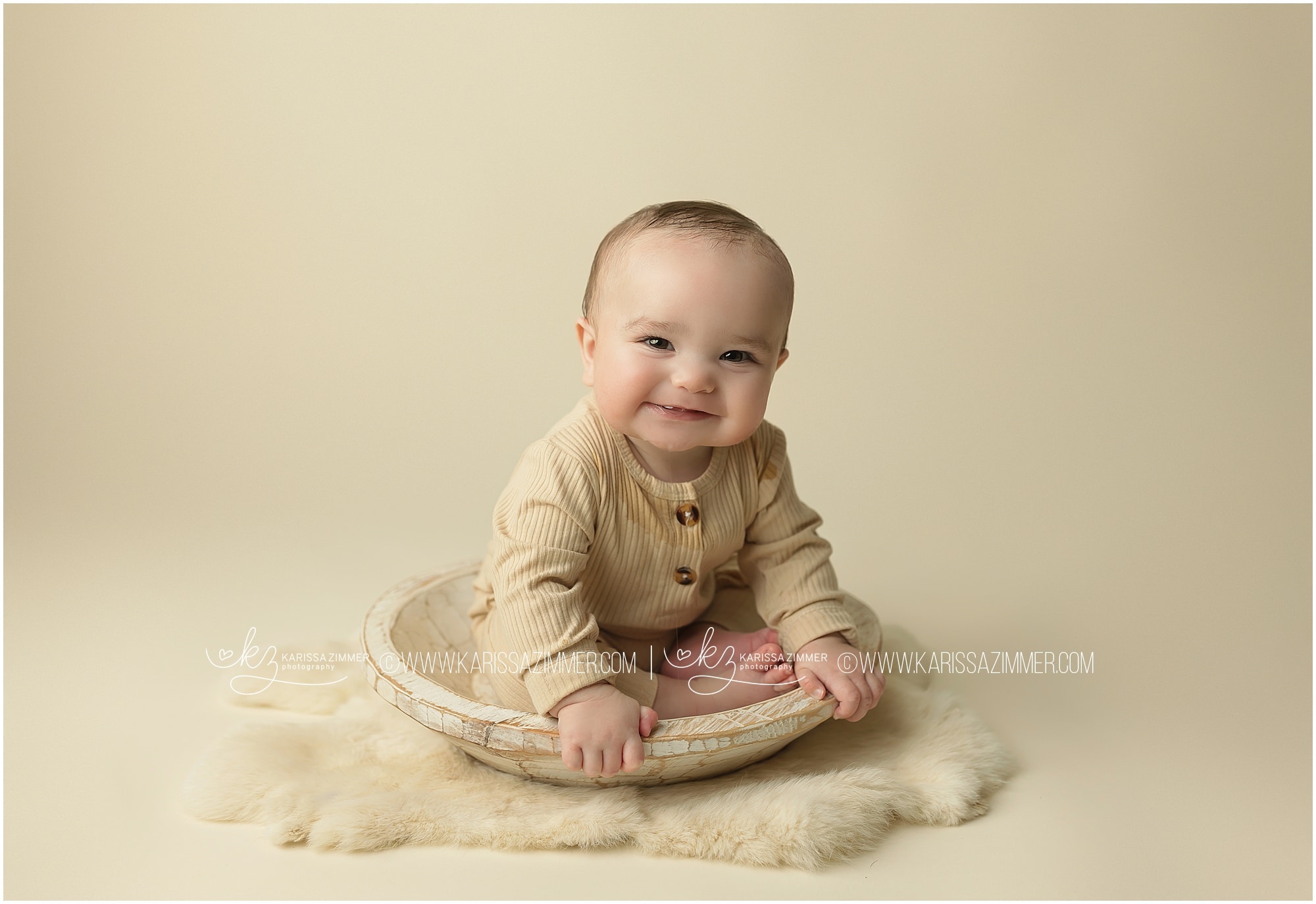 Booking Your Carlisle PA Sitter Session
Sitter session photography is an opportunity to get stunning baby photos at this fun time in your baby's developmental journey, and I'm honored to make this happen for families throughout the Carlisle, Mechanicsburg, and Harrisburg areas. Contact Karissa Zimmer Photography today to book your sitter session and start planning the baby portraits of your dreams.