You probably turned to your Google machine and typed "Family Photographer Near Me Camp Hill" which landed you right here! Yay! You're in the perfect place! When I ask my newest clients how they found me they often respond with "I just typed Family Photographer Near Me into my Google search bar and loved your images!" That is exactly how the Whittaker family found me and I am so happy they did! This family of 3 boys was so much fun to work with!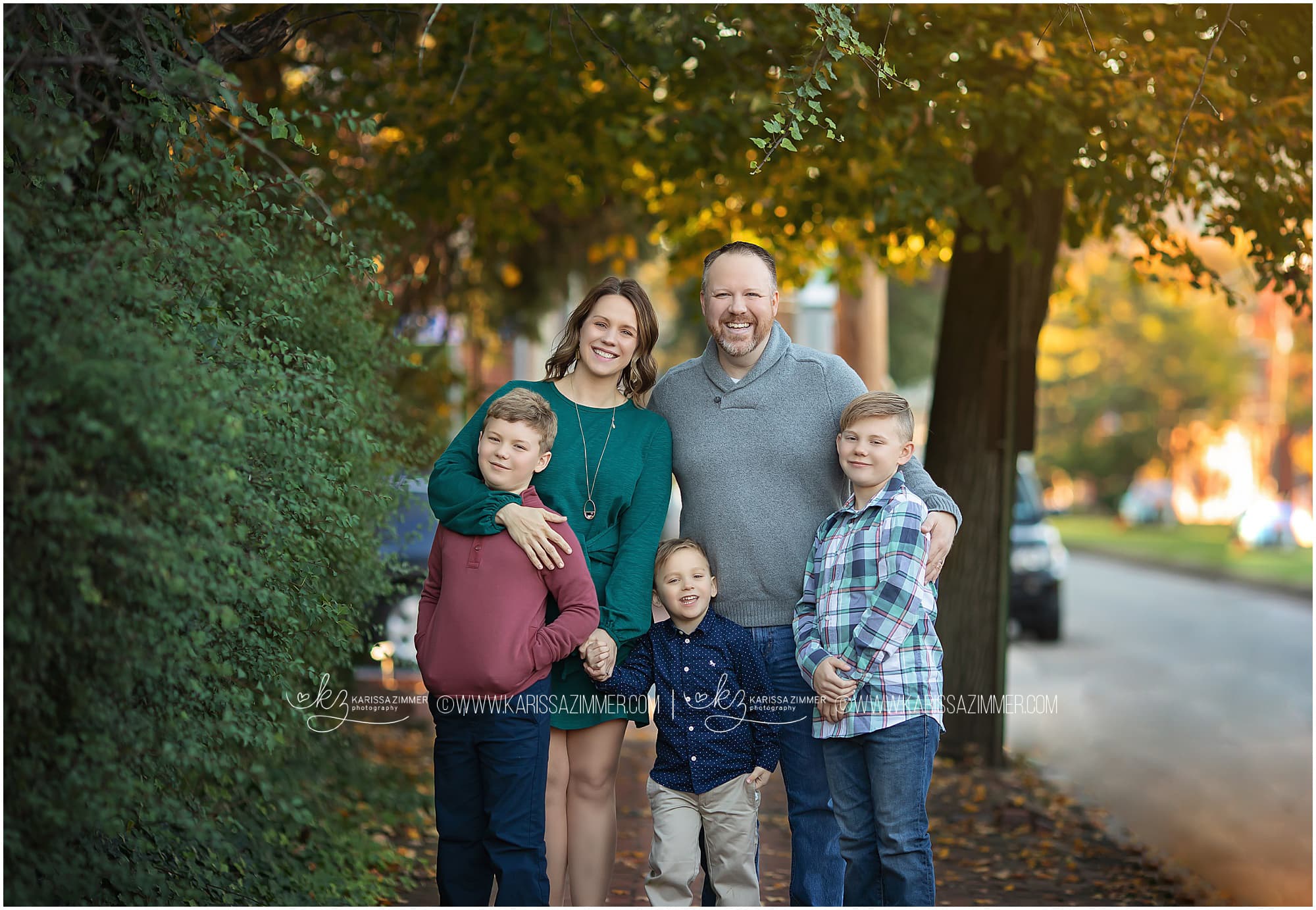 The Consultation with your Family Photographer
We all know most moms do it all! Including the search for the perfect photographer to capture her family's memories! After Mom's initial Google search for a "Family Photographer Near Me Camp Hill" she contacted me and we set up a consultation at my Camp Hill photography studio to meet and plan! I believe family photography is such a personal experience. Therefore, you should have the opportunity to meet the person who is going to work with and photograph your family. You should know that you like and trust your photographer before moving forward! A consultation also gives me as the photographer a chance to meet and get to know a little bit about my clients and their family. Connection and trust throughout my family photography process is something I value extensively.
The photo session with the Family Photographer near Camp Hill
Together, we talked about locations and style and ended up choosing a small town, urban feel for the Whittaker's session. Can I just say this session was a stress free, ton of fun session! Not only are they a totally adorable family with 3 handsome boys, but the fact that they like to have fun and laugh is what made it perfect! I am certainly NOT above playing along with 3 young boys and their fart sounds and silly names or words! Ha! Life is short. So, It should be fun and light hearted and your family portraits should reflect who you are together in genuine form!
The Reveal and Ordering Appointment at the Camp Hill Photography Studio
The exciting part happened about two weeks after their session when mom came in to my Camp Hill photography studio to view her family's images for the first time! I played a slideshow of all of their images, and using specialized computer software, was able to show her exactly what her portraits will look like on the walls of her home! Therefore, this part makes the ordering appointment truly awesome! The ability to use snap shots of my my clients very own home walls to show them true to life sizes and wall art products with their images takes all the guess work out for both of us! Together, we selected a variety of tangible products for their home. A keepsake that their children will have to carry through their lives and pass down for generations, and a big, beautiful grouping of round Farmhouse framed prints! My personal favorite too!
Delivery of Portrait Keepsakes and Installation of Wall Art by Camp Hill PA Family Photographer
This is where all of the magic comes together, forever! I think we can all agree that good things take time. Approximately 6-8 weeks after the ordering appointment I hand delivered all their heirloom portrait products and even hung and installed their wall art in the locations we selected during the ordering appointment! I pride myself on offering a truly full service portrait photography experience! Life is busy and i'm here to make this easy by walking you through the entire process from start to finish!
Reserving and planning your Family's Camp Hill photography session
The best time to reserve and plan your own family's portrait session is as soon as it crosses your mind! It's always best to plan ahead and book several months in advance. I am here to help you every step of the way. So, reach out by contacting me HERE now and I will help you get the ball rolling! I can't wait to meet your family and preserve your memories forever!