Have a baby on the way? Congratulations! Maternity photography is a phenomenal way to celebrate this one-of-a-kind stage in your family's life, honor your body for the beautiful work it's doing, and create mementos you will forever treasure. What type of maternity photo session is the best fit for you? Should you book a Mechanicsburg outdoor fall maternity photography shoot?
All of my maternity photo shoots take place on location, either at an outdoor location we can choose together like a local park or, for a more intimate setting, at your home. Both types of sessions have the potential for absolutely stunning and meaningful maternity portraits; it's just a matter of your personal preference. To help you decide, let's look at some of the pros and cons of outdoor maternity shoots.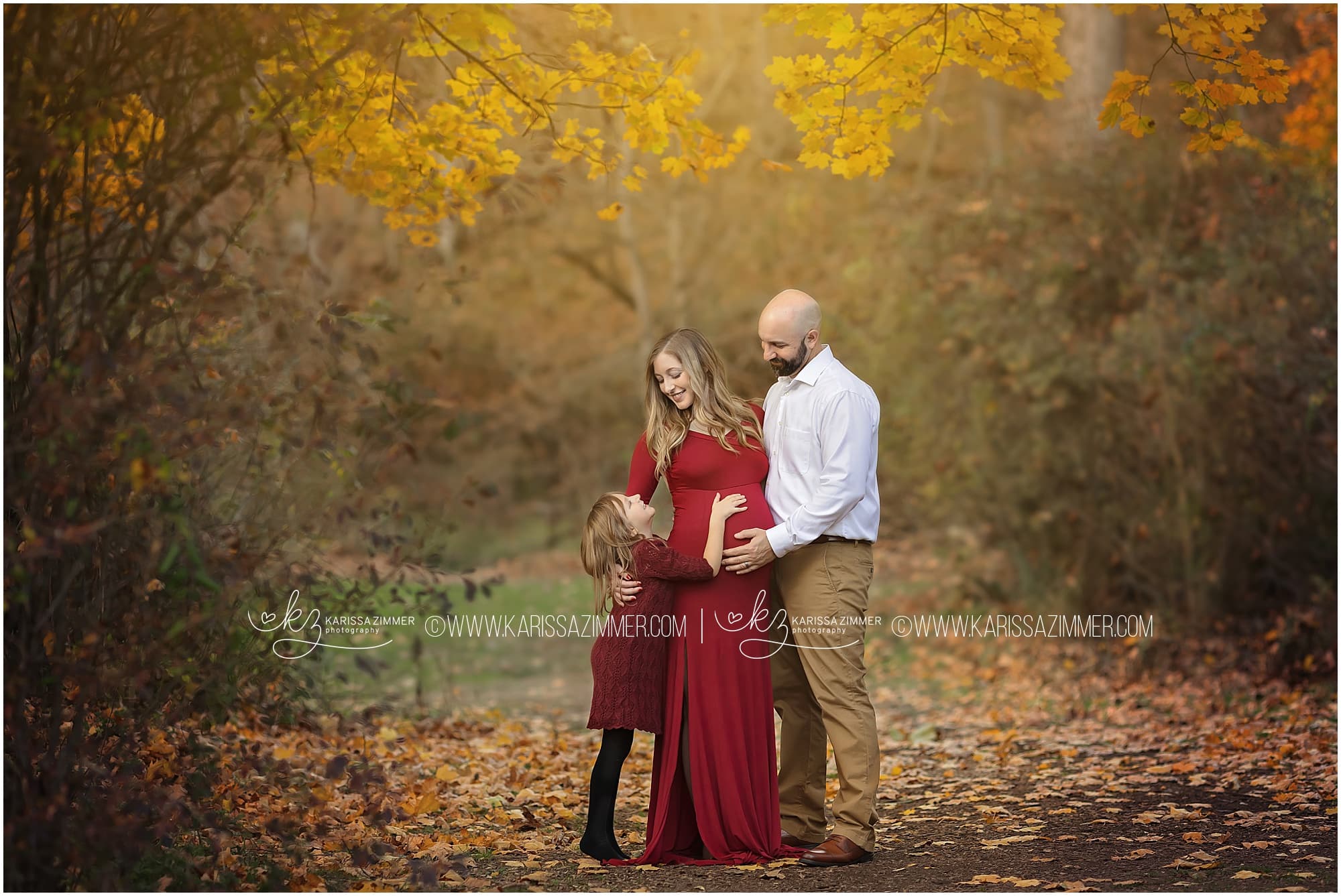 Pro: Beautiful Natural Scenery for Mechanicsburg Outdoor Fall Maternity Photography (or Spring or Summer)
I have the honor of living in an area with incredible natural beauty and with pronounced seasons that each have their own look, and I love taking advantage of this for my client's benefit. You can have effortlessly gorgeous backgrounds in your photos.
The look of your outdoor portraits will depend on the location we choose, and I'm here to help. You and I can choose a location together based on the aesthetic you want for your portraits and the season when your session will take place. I have plenty of location recommendations around Mechanicsburg, whether you want vibrant fall colors, open green space, misty lakes, or even an outdoor urban look.
Con: Difficulty Taking Semi-Nude Portraits
Some moms-to-be love those semi-nude maternity portraits that showcase their baby bump in all its glory and celebrate their body for the incredible work it's doing. These often turn out to be my clients' favorite portraits in their collections, and rightfully so!
Taking these intimate portraits outdoors can be a bit uncomfortable for some women, though. Depending on the season, you might be physically uncomfortable and self-conscious as well about being partially undressed outside. Some moms-to-be prefer a photo session at home for these types of portraits.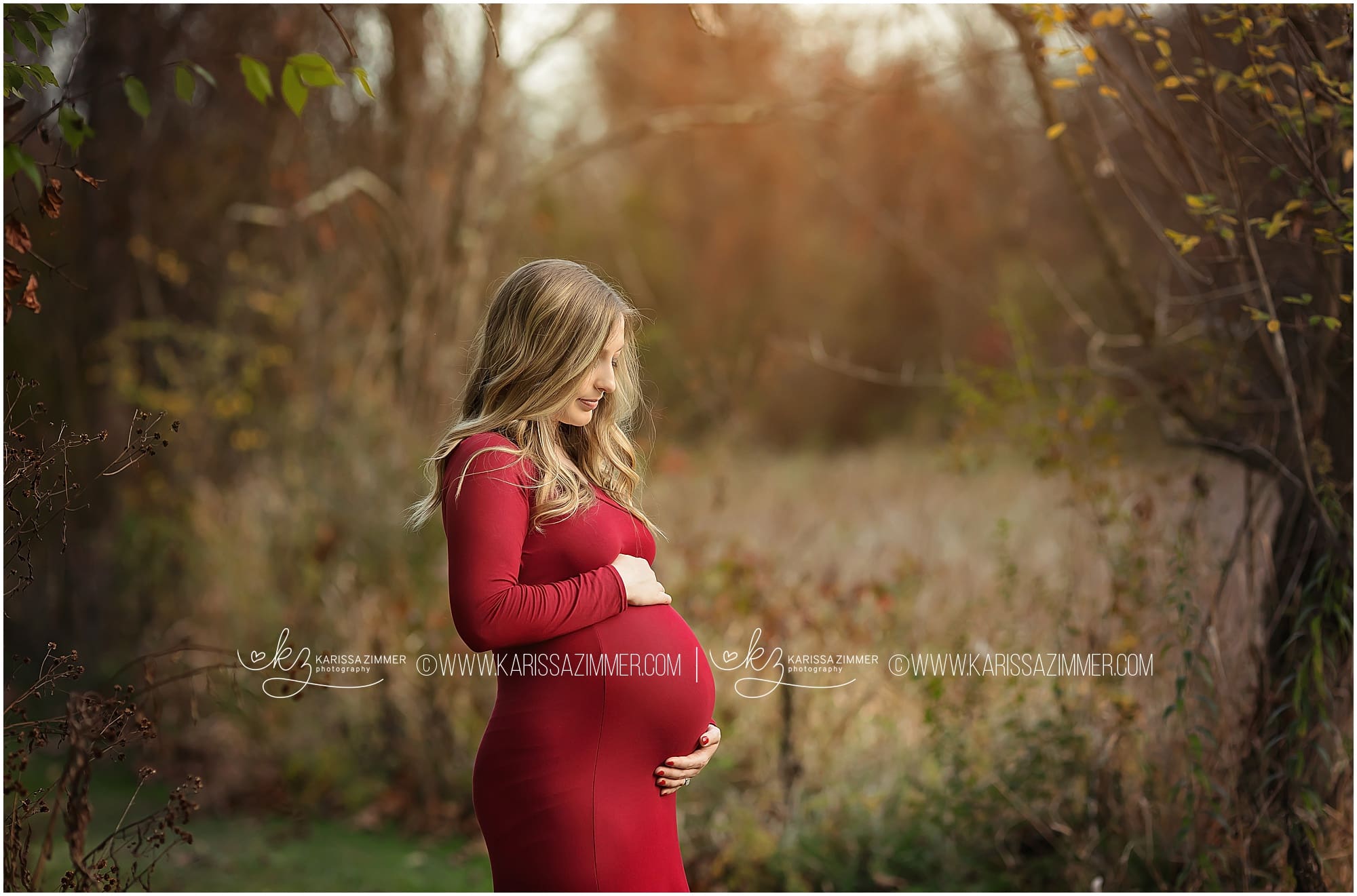 Pro: Create Special Family Memories
An outdoor maternity session is more than just a means to an end for getting the maternity portraits you want. It's an adventure! An outdoor photo session gives you and your family a chance to enjoy a new experience together in a park or other fun spot.
This is especially fantastic if you have other children you're bringing into the portraits too. Your family gets the opportunity to not only create beautiful portraits but to make new memories together at the same time.
Con: Potential Weather-Related Challenges for Mechanicsburg Outdoor Fall Maternity Photography
The same thing that makes outdoor portraits gorgeous is the thing that makes them unpredictable: the outdoors. Natural landscapes are lovely but you never know for sure what the weather will do. There's always a risk that you'll need to reschedule or make accommodations for rain, strong winds, or other weather changes.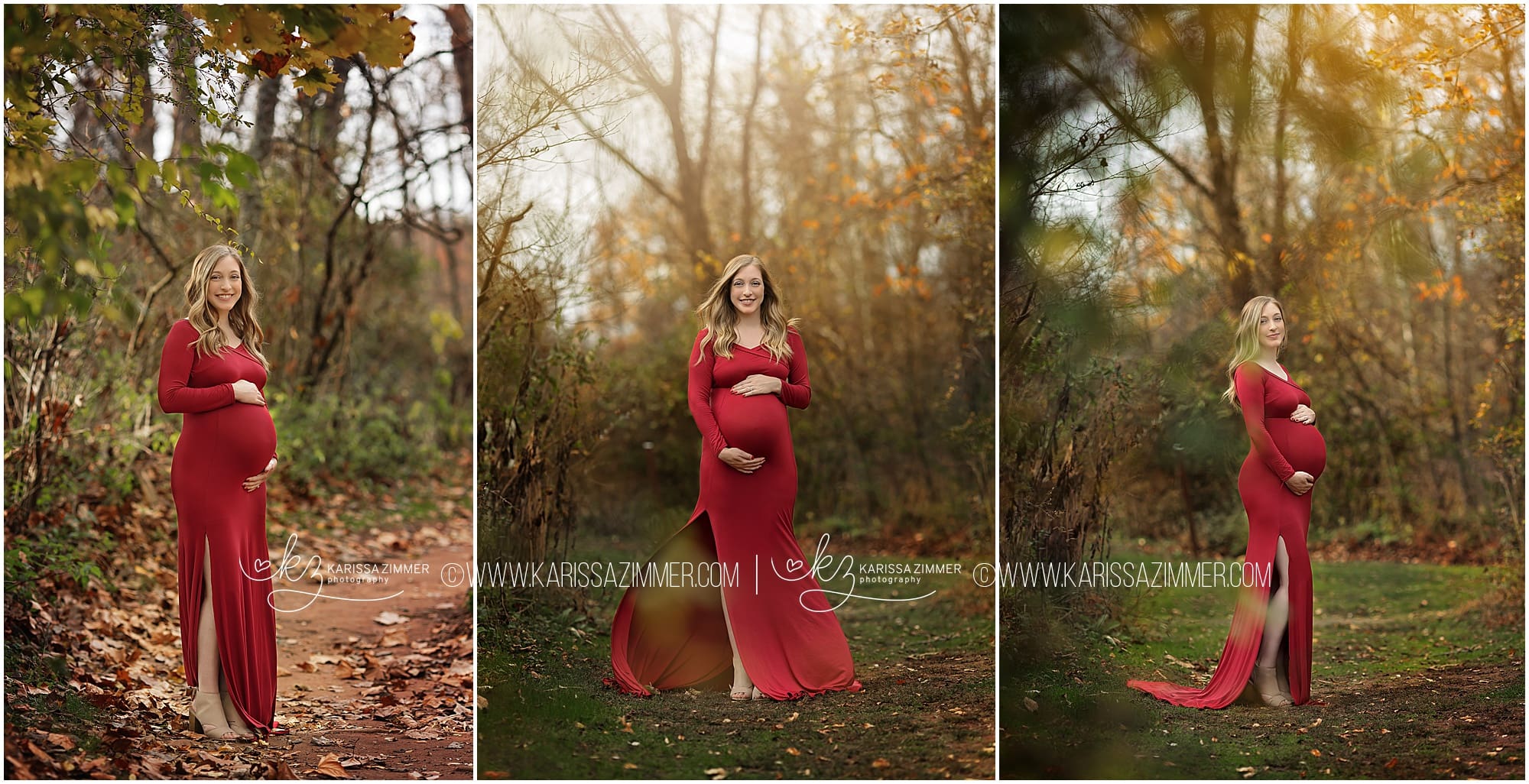 Pro: No Need to Prep Your Home
Lifestyle portraits at your home are always unique and special, and I tell all my clients that your home doesn't need to be spotless by any means. Still, it can be stressful for some moms-to-be to have a photo shoot in their home, and some women just don't think their home will be very photogenic. Maybe you're still working on your baby's nursery or other projects around the house and you don't feel like it's camera-ready. For some families, it's just more comfortable to take their portraits elsewhere.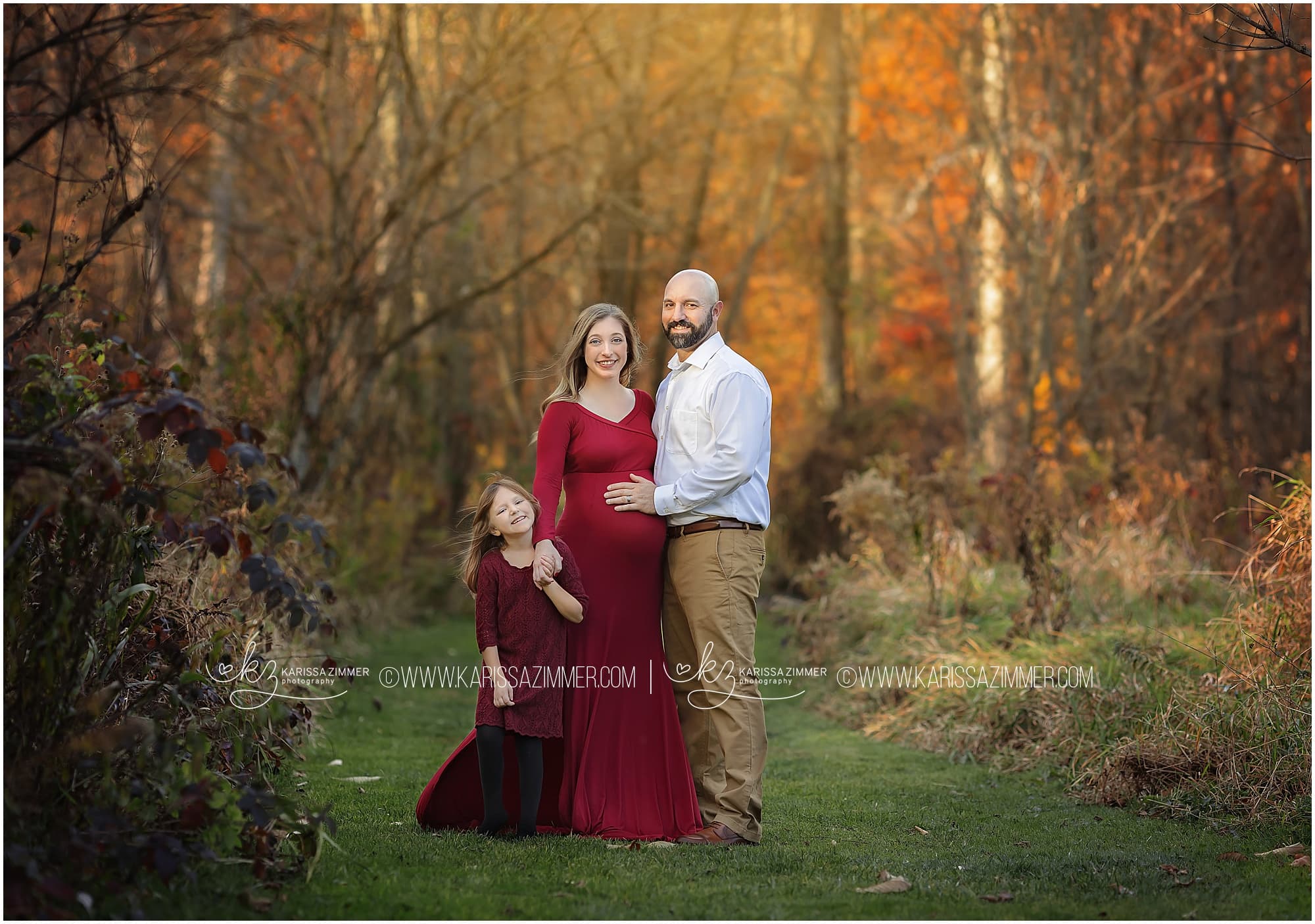 Con: Wardrobe Limitations
Some clients who come to me have been dreaming of their maternity portraits for months and have an idea in their mind of the exact wardrobe they want to wear. I love when clients are excited about their portraits! It's important to keep in mind, though, that for outdoor portraits, your wardrobe will depend on the weather. For instance, for Mechanicsburg outdoor fall maternity photography, you'll need to wear something fall-appropriate so that your outfit aligns with the fall aesthetic (and so you're comfortable, of course).
Creating the Mechanicsburg Outdoor Fall Maternity Photography of Your Dreams
I love working with moms-to-be who are thrilled to celebrate their pregnancy and this special time in their lives with maternity portraits. Contact Karissa Zimmer Photography today and let's start planning your dream photo shoot!