When I'm planning a Mechanicsburg newborn photo session, I know that these sessions inevitably happen when your family is in the middle of a huge adjustment period. You just welcomed a brand new family member into your home, and that family member needs a lot of time and attention. No matter how experienced you are as a parent, every newborn is different, so you never know exactly what to expect.
That's why I aim to make the newborn photography process simple and stress-free for you. This is an incredible time in your life and you're capturing photos you'll treasure for the rest of your life, so the beauty of this moment shouldn't be sullied by chaos and anxiety. For that reason, I make sure to have a thorough discussion with every family who schedules a newborn photo session with me to discuss the process ahead, how they can prepare, and what they should expect.
If you're preparing for a newborn photo session, what should you bring with you? While every photographer has their own supplies and recommendations, I'm sharing a quick list of the top items you should plan to bring.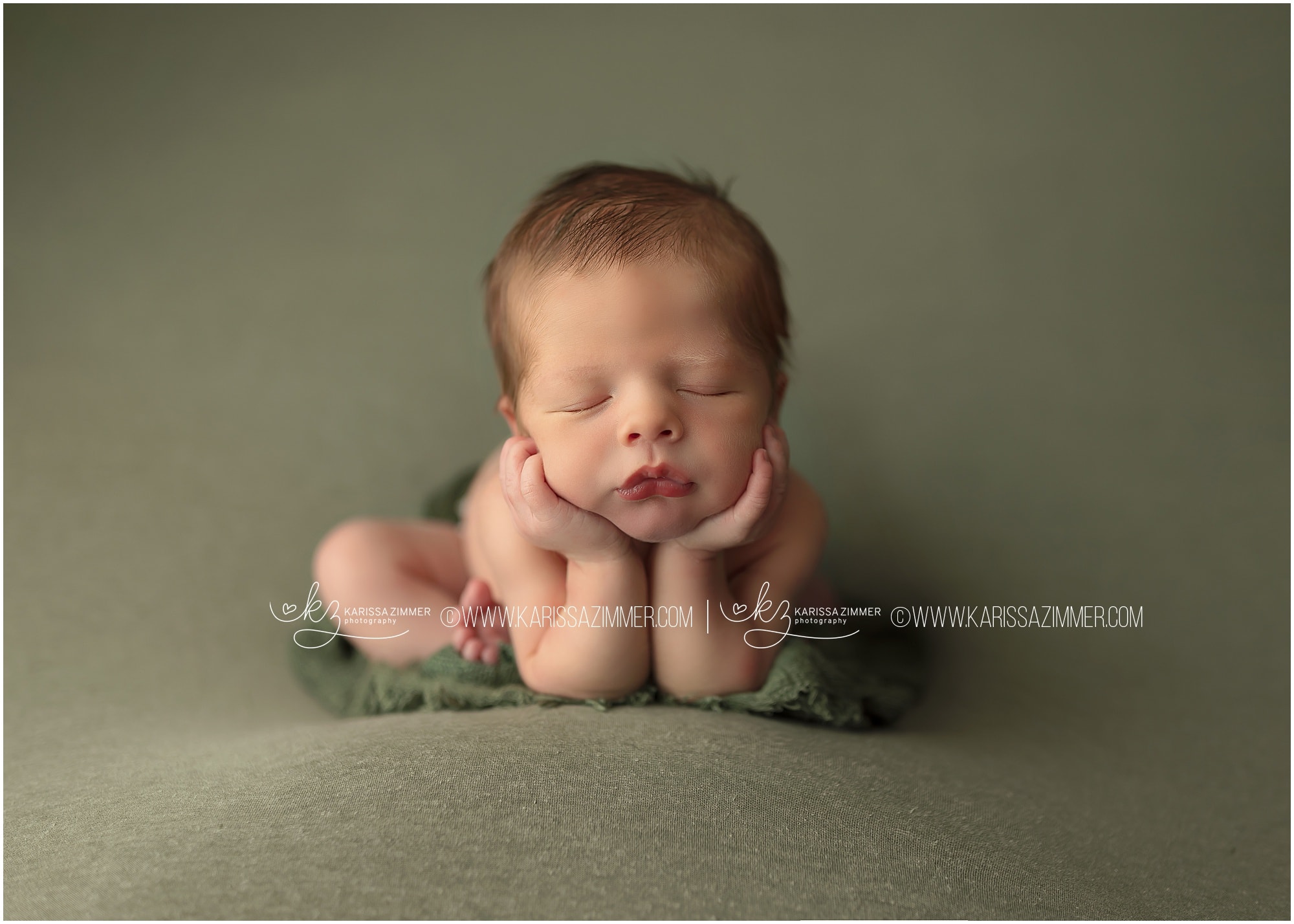 What You Should Bring to Your Newborn Photo Session
While I provide just about everything you'll see in your baby's finished newborn portraits, there are some items you can bring to keep your baby and your family comfortable. My newborn sessions can last up to six hours because we give your baby as many breaks as they need to eat, rest, get changed, and more. To make sure you have an enjoyable and relaxed experience, I recommend that you bring:
Anything your baby will need to be comfortable throughout the session, such as extra diapers, pacifiers, and so on
Any items you need to comfortably feed your baby during their session, including bottles, a breastfeeding cover, a breastfeeding pillow, etc.
An extra change of clothes for any family members who will be in the photos…because accidents happen, especially when nude newborns are involved!
Any special items you want to incorporate into your newborn photos, like family heirlooms, a family member's armed services or first responder uniform, or other pieces
Items to keep you comfortable during your session – remember, we'll spend much of the session photographing your baby solo while you relax, so feel free to bring snacks, drinks, a book, or even a pillow if you'd like, as well as your breast pump
Anything that may help entertain your baby's siblings if they're coming to the session, like books, games, puzzles, a tablet for watching videos, and so on –make it easier on the entire family, though, I recommend a sibling add-on session instead for "big siblings" under the age of five, which allows us to get sibling photos with the new baby at home so your kids can stay home or with a sitter instead of attending a lengthy newborn photo session
What Your Photographer Will Supply for Your Newborn Photo Session
As a newborn photographer, I will of course have all the photography equipment I need to create stunning newborn portraits. In addition to the obvious items, though, I also supply:
Cushions and fabrics to create cozy backdrops for your baby's portraits
Wraps for your baby in countless colors to customize your color scheme, as well as complementing accessories like hats and headbands
Props needed to create sets that align with your desired theme
Booking a Stress-Free Mechanicsburg Newborn Photo Session
If you're in the exciting and life-changing time of preparing to bring a new baby into your family, I would love to help you commemorate this experience and chronicle your baby's first days with custom, one-of-a-kind newborn photos. Schedule your Mechanicsburg newborn photo session with me today for a simple, easy experience with outstanding results.