For as many different family photographers as there are in the world, there are just as many different types of family photography experiences. Many of us, whether in our childhoods or as parents, have had one of those stressful photos shoots in a sketchy studio when we just stood in one spot and smiled over and over, feeling awkward the entire time. That's why, from the first day I started performing photo shoots as a Mechanicsburg PA photographer, I wanted to create a different experience – an opportunity for priceless memories that brighten your home for generations.
That's why I choose to provide custom portrait photography. Allow me to shed light on custom photography and walk you through the journey you can expect.
From a Mechanicsburg PA Photographer: What Is Custom Photography?
Custom portrait photography is a full-service photography experience. It's all about taking your investment beyond just snapping pictures you'll post on Instagram once and then forget about. Custom photography focuses on giving you a tangible way to treasure your portraits and ensuring that those finished products are of the highest quality.
Many types of photography merely give you the first half – digital files of your family photos. Custom portrait photography finishes the entire journey with you so by the time we're finished, you have a gorgeous display in your home, ready for you to enjoy.
What to Expect from a Custom Photography Process with Your Mechanicsburg PA Photographer
Each photographer will provide a different experience. When you book your custom portraits with me, though, whether it's newborn, maternity, family, baby, or senior photos, here's a peek into what you can expect from the process.
Step 1: Getting in Touch
It all starts with a message or phone call from you! When you reach out to me, we'll chat for a few minutes about what you're looking for in a Mechanicsburg PA photographer and we'll schedule your consultation.
Step 2: The Consultation
A magical photo session always starts with careful planning and, most importantly for me, listening. I want to hear all about your vision for your portraits, how you want to display your photos, what styles and poses you love, and more. We'll chat about the details and I'll plan all the essentials for your dream photo session based on your intended purpose and placement for your portraits.
Step 3: The Session
The day has arrived! By the time it's your session date, you'll know all about where to go and what to expect because we'll talk about it all during your consultation. Your photo shoot isn't just a means to an end, though. I want it to be a memory-making experience too. As a Mechanicsburg PA photographer, I'll be able to guide you through each pose and set so you can just relax and enjoy.
Step 4: The Reveal and Ordering Appointment
After your session, I'll get to work combing through each shot, picking out the best of the best, and doing an initial edit. Two or three weeks later after your family photo shoot, you'll come to my studio for one of the most exciting moments of the process: the big reveal!
I'll unveil a display of all your amazing portraits and at first, you can just take it all in and enjoy them. Then, we'll sit down and chat so you can choose your favorites for your finished products. This is also when you'll decide on the details like the specific products you want and we'll place the order for your custom pieces. We source a variety of products from top artisans around the world, including:
Farmhouse-style framed portraits
Heirloom photo albums
Folio display cases
Canvas or acrylic Italian wall art
Amalfi panels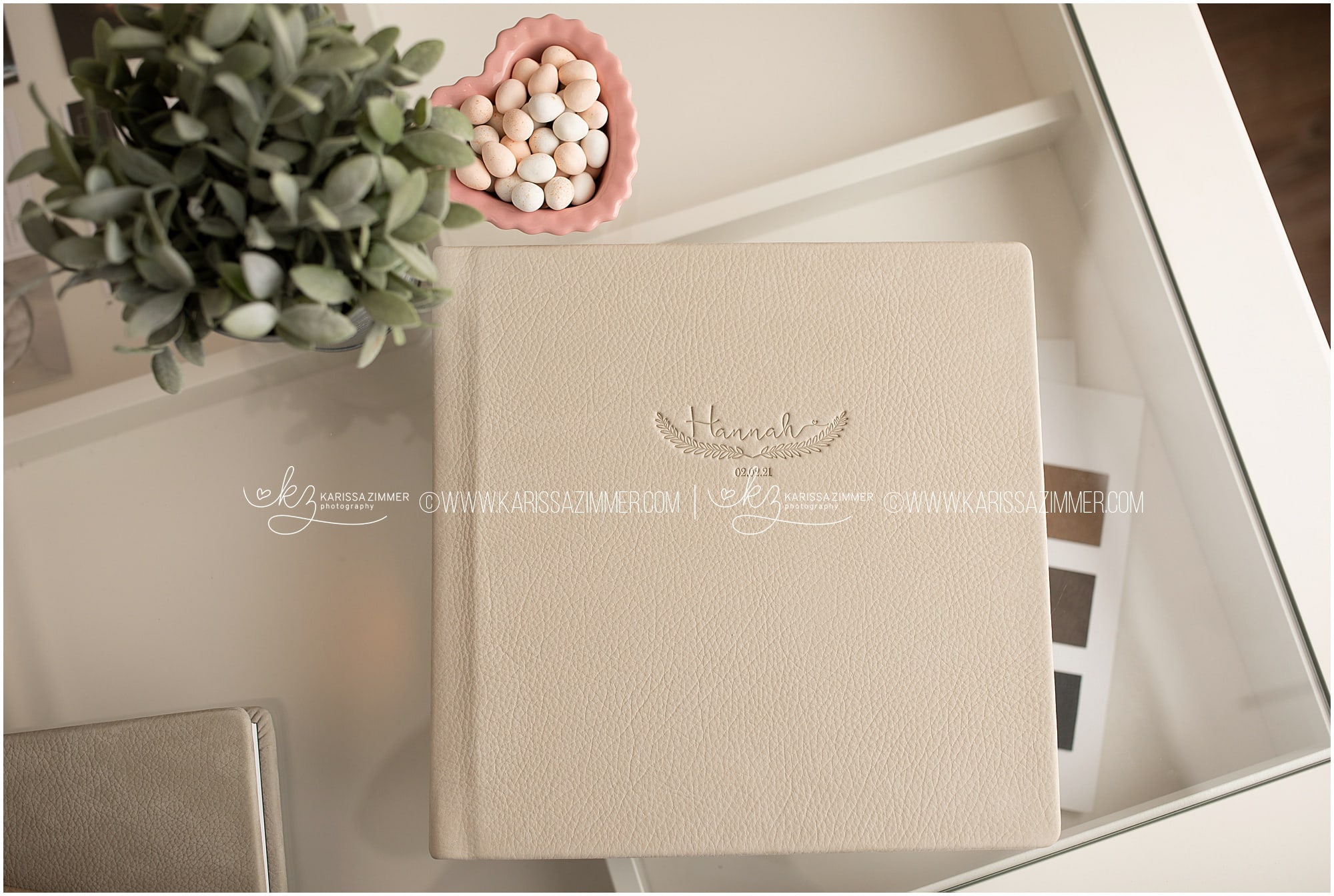 Step 5: The Delivery
When your items arrive at my studio, I'll give them a close exam to make sure they're of the highest quality. Then, I'll give you a call right away to arrange a time for me to deliver your new artwork. I'll bring your custom pieces to your home and even help you install them if you wish.
Booking Your Custom Photography Experience with a Mechanicsburg PA Photographer
Custom portrait photography is all about giving you a smoother, more guided process so you don't have to navigate unfamiliar waters – your photographer will take care of it all and provide you with incredible one-of-a-kind artwork that's ready for you to enjoy and cherish. To kick it all off, contact my photo studio today.