Whether you're a full-blown fashionista or you throw on the first thing you grab from your closet, planning a wardrobe for a portrait session is a challenge. You want to find colors and cuts that will flatter you, photograph well, and coordinate nicely among the entire family in the portraits. You're not alone – you have me in your corner! If you're planning Mechanicsburg newborn photos, here's your guide to what to wear for your photo session.
Do I Need to Plan a Wardrobe for My Baby for Newborn Photos?
Here's some good news: you don't need to worry about clothing for your newborn. For newborn photography, I have an extensive selection of wraps and accessories to create all the looks you want for your baby. I often take plenty of nude newborn portraits too, as long as the baby will still rest comfortably.
What Parents Should Wear for Newborn Photos
Most of your newborn portraits, of course, will center on your beautiful new bundle of joy. But I always aim to take a few photos of the newborn with you, their loving parents, so you will want to bring some photo-friendly clothes for yourself and your spouse or partner.
My top recommendation is to bring something that is black and very simple – no logos, buttons, or embellishments. Dads will often choose a simple black Hanes-type t-shirt, though we also get a very touching, artistic effect in portraits of dads without a shirt holding their baby.
For moms, there's no need to go out and buy something new – something simple and black is timeless and stunning. After all, I'll be posing your baby in a way that covers much of your chest, so you won't be able to see much of your top. It's fantastic if you can show a bit of skin with a black sleeveless or short-sleeved top, but long sleeves are still beautiful.
For any parent, we can also take portraits with your newly growing family in special garments that are meaningful to you. For instance, members of the military and first responders may want to take portraits in their uniform with their baby.
I do encourage parents to bring a backup outfit for their newborn portraits too. You never know when your baby might have an accident, and we want to make sure you aren't scrambling for a way to cover up an uncomfortable stain!
What Siblings Should Wear
I love a great sibling portrait when a new baby comes into the family! Rather than taking sibling portraits during your baby's newborn session, I take these portraits in a separate add-on photo shoot. We typically take these photos at your home so your kids can be comfortable and relaxed.
I typically take some sibling portraits with a soft, neutral color palette. For these photos, I suggest something white or cream-colored for girl siblings. For boy siblings, we can do the same colors or have them without a shirt. Many parents choose khakis without a shirt for their sons' photos with their newborn.
Other than this, though, we can take your kids' portraits in anything that feels natural and has coordinating colors throughout the family. Since we'll be at your home, you can easily make a wardrobe change at any time if necessary. Keep in mind that for sibling portraits, as for traditional newborn portraits, you'll want to have backup outfits ready for each member of the family.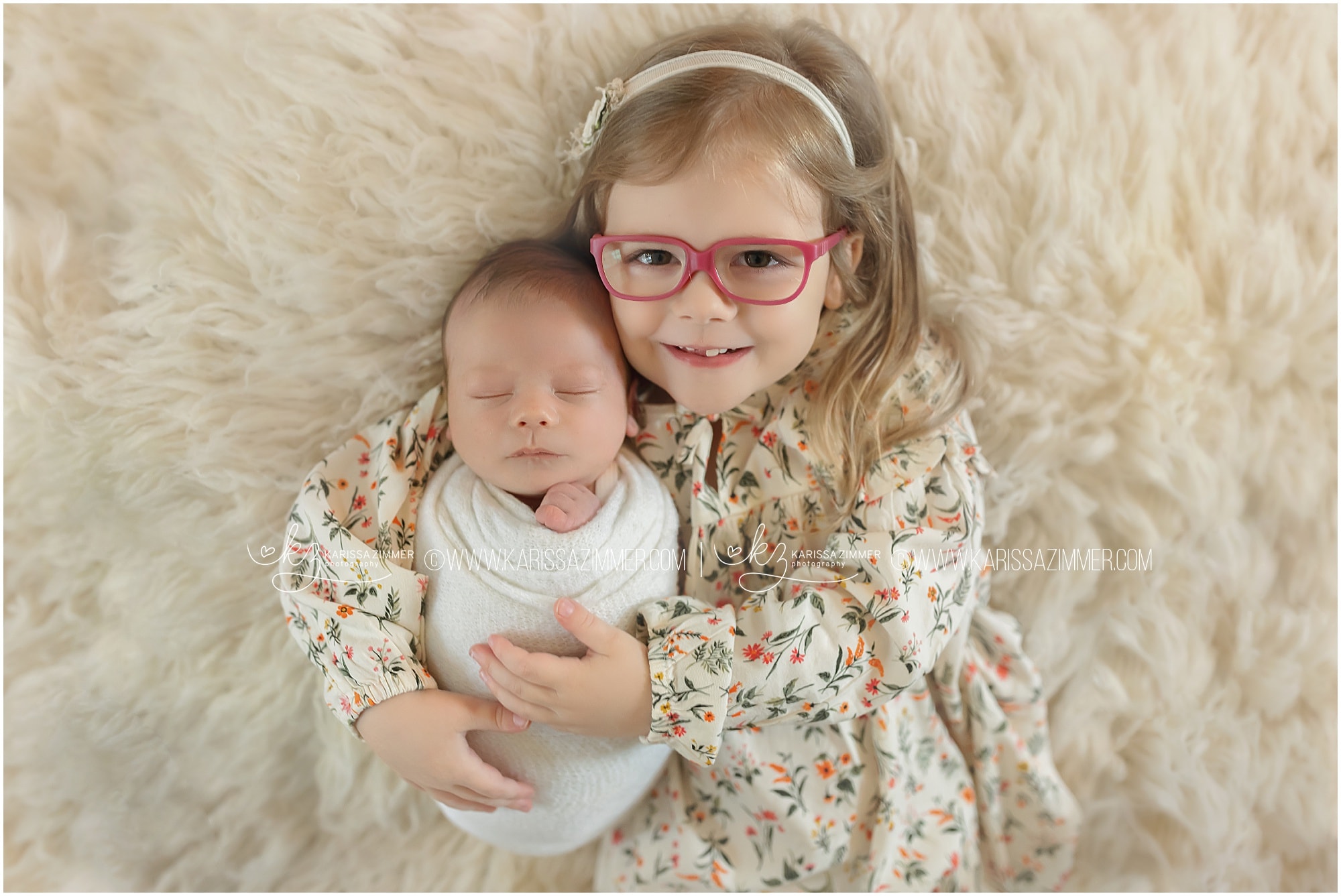 Planning Your Mechanicsburg Newborn Photos
Getting spectacular newborn portraits can be easier than you think. As a full-service photographer, I take the time and work off your plate. I'll guide you through the entire process, including turning your newborn photos into incredible, heirloom-quality artwork that's ready to display in your home.
To start planning your newborn photos, contact Karissa Zimmer Photography today and let's chat about your dream portraits!