Your beautiful baby is turning one: congratulations! You've made it through that magical yet chaotic year of infancy, and now it's time to celebrate while also capturing this amazing milestone in your baby's life. What better way to do that than with a first birthday photo session?
As much fun as a first birthday photoshoot is, it can be intimidating if it's your first time. Where do you begin? How do you plan for it? What should you bring? Don't worry, I'm here to help with your ultimate guide to your baby's 1st birthday cake smash photos.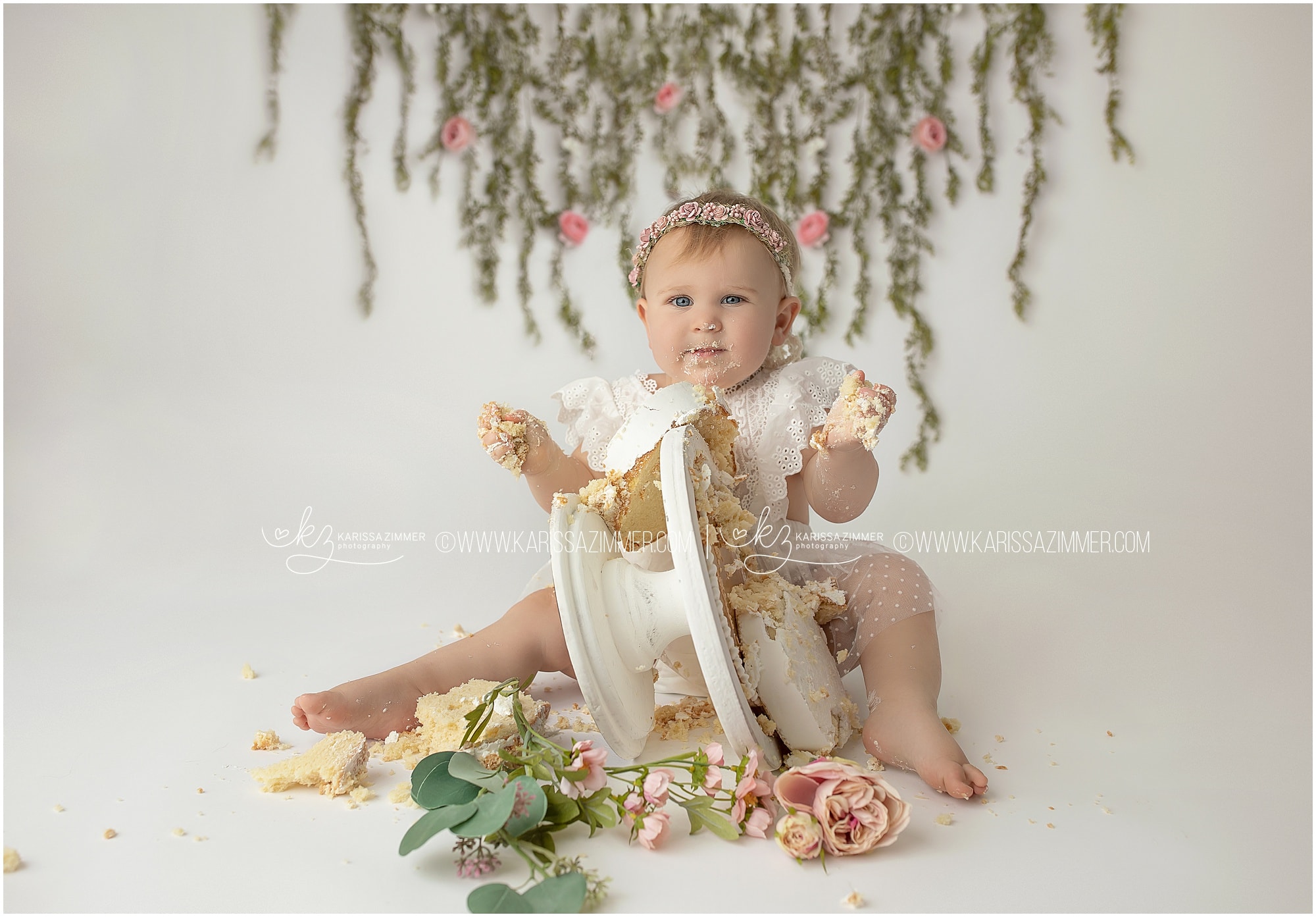 What Can I Expect from a First Birthday Photoshoot?
While every photographer has their own process, I've been working with one-year milestone photos for many years, so I'm happy to guide you through my process when I book a first birthday photoshoot near me.
We always begin with a consultation. This is when we'll discuss your vision for your baby's portraits and what you want from your photoshoot. We'll talk about where you want your session to be, what specific types of images you love, and so on. I can also answer all your questions about outfit ideas for your baby, how to prepare for the session, and so on.
I offer first birthday photo sessions in two parts – usually on the same day if the weather permits. The first part is a cake smash session for your baby in my studio early in the day, where we'll capture all those adorably messy cake smash photos. All that fun tends to make babies pretty tired, so I'll then send you home with your baby so you can get them thoroughly cleaned up and they can enjoy a nice rest.
Then, we'll meet back up outdoors in the late afternoon/early evening (or "golden hour" as it's often called) for a small outdoor session. Throughout the session, you can relax, watch, and enjoy as I capture a mixture of posed portraits and candid photos that showcase your baby's personality. We can also incorporate you and the rest of your family into these photos if you would like.
Afterward, I'll hand edit all the best photos from your session. We'll schedule a viewing and ordering appointment for two to three weeks after your photo session. That's when you'll see all your baby's beautiful photos in a presented slideshow and you can choose the images and products you want.

Where Do I Get a Cake Smash Cake?
If you want to make it simple, I can source your cake smash cake for you for an additional fee. However, a lot of families choose to get their cake from any local bakery, or you can even bake it yourself if you're so inclined. There are a few things to keep in mind, though.
First of all, if you're getting the cake from a bakery, make sure to tell them that it is for cake smash pictures. Sometimes bakeries will have a stabilizer stick inside the cake, and you want to be sure there isn't one for a smash cake.
Second, while you can get any color and type of cake you want, there are a few things to avoid. It's best to steer clear of chocolate cake or chocolate icing because it doesn't photograph well. The same is true for red icing. I also suggest getting a cake with icing instead of fondant, because fondant is hard to chew so it can present a choking hazard.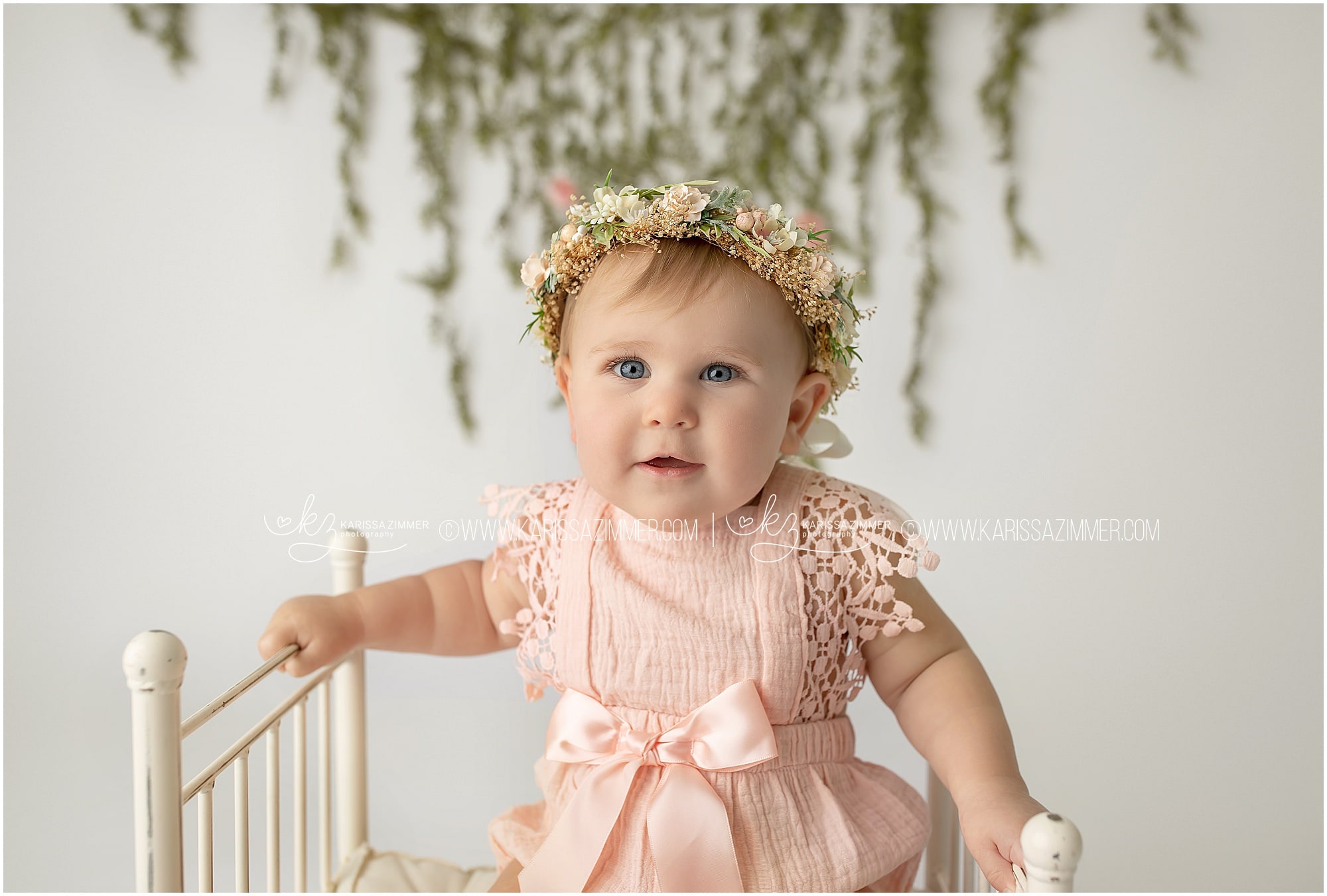 Do I Need to Do Cake Smash Photos for My Baby's First Birthday Photos?
Absolutely not! Your baby's first birthday photos are memorializing a special milestone in your family's life, and you can make it whatever you want it to be. While 1st birthday cake smash photos are a popular tradition, you can do whatever you want for your photos.
Should I Choose a Theme for My Baby's Milestone Photos?
Whether or not to have a theme for your baby's milestone photos is entirely your decision. Some families want their portraits to center around a special interest the family has like their favorite sports team or their baby's favorite cartoon. But a theme isn't necessary. When I'm doing a 1st birthday photoshoot near me, I typically combine candid photos of the baby being their amazing self with some first birthday décor so the occasion is clear to see.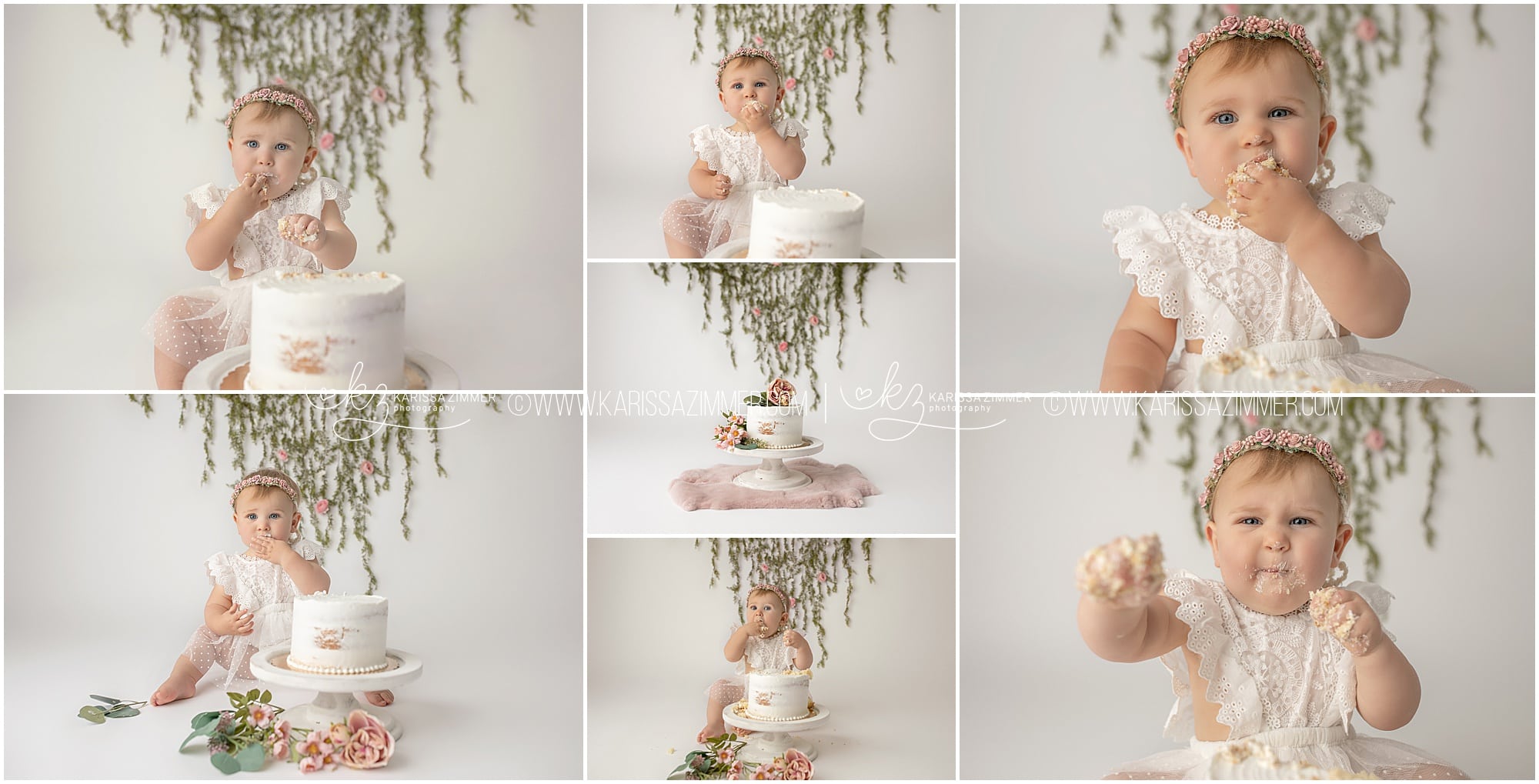 What Should I Bring to My Baby's Cake Smash Photo Session?
When you're getting ready for your cake smash photography session, there are a few items you'll want to bring along. These sessions generally last one to two hours, so bring anything you might need to keep your baby (and you!) comfortable during that time. That can include diapers, wipes, bottles, snacks, and so on.
It's also a good idea to bring an extra outfit for your baby's trip home. I always save the cake smash photos for the end of the session because babies get MESSY! Still, you'll want to bring anything you need to clean up your baby afterward as well as an outfit for them to wear on the way home. You might get messy in the process too, so it's a good idea to bring an extra outfit for yourself as well.
Making Your Cake Smash Photos Special
Your baby's first birthday is an amazing occasion to celebrate, and I'd love to help! Now that you have the lowdown on everything you need to know, it's time to get your session on the schedule. Contact my Camp Hill photography studio today.