Choosing the best newborn photographer near Camp Hill PA may be one of the most important decisions you make when expecting a new baby! There are a few key factors that you may want to think about when deciding on something so very important! Are you patiently awaiting a new baby in the coming months? Have you just welcomed a precious newborn into the world? Your baby will only be a tiny newborn for such a very short time. Capturing these special new moments through professional newborn photography is likely on your mind! While price can often be a factor for many people when choosing a newborn photographer, it most certainly shouldn't be your only deciding factor. Here you can find some great tips for choosing the best Camp Hill newborn photographer.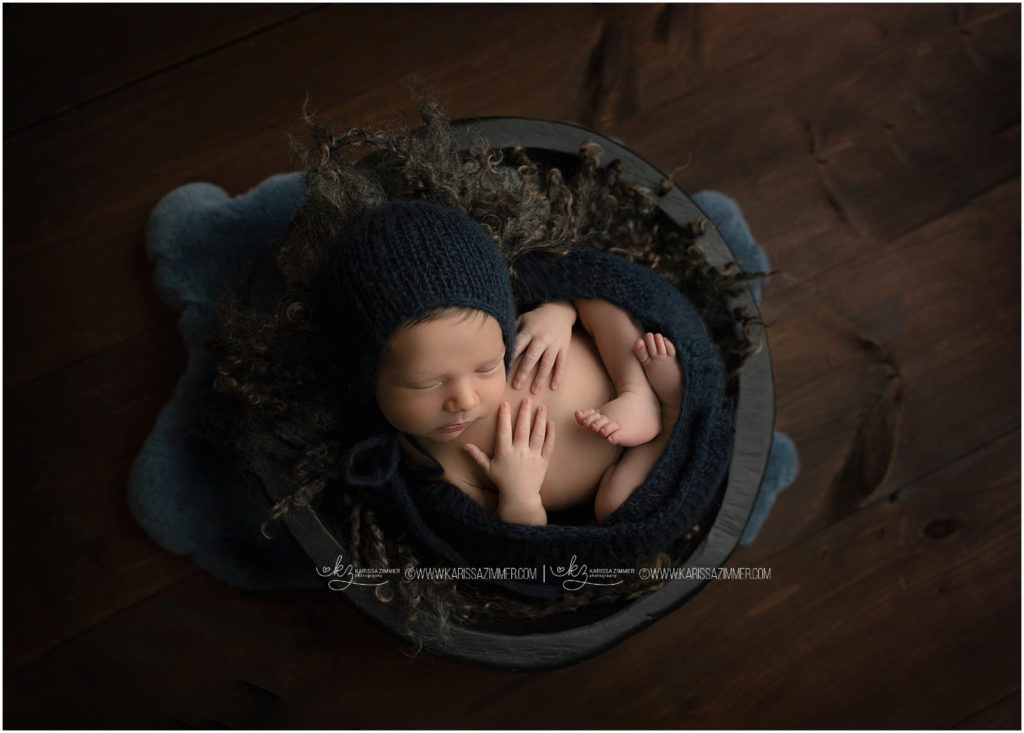 Camp Hill Newborn Photographer SAFETY trained.
The safety of your baby should be your number one priority when choosing the best photographer to capture these sweet, delicate moments. Almost every expecting parent does a ton of research when it comes to selecting safe products and services such as bottles, car seats, cribs and child care providers. You will want to use this same standard of care when it comes to choosing your newborn photographer. You'll want to know that the photographer who is handling and posing your sweet baby has the training necessary to pose your baby safely. A few things to ask your potential newborn photographer…
Does the photographer have in-person newborn photography training?
How long has the photographer been posing newborns?
What is the studio sick policy?
What are the studio cleaning practices?
Is the photographer insured?
Are there any additional precautions being taken?
I personally prioritize the safety of your baby above all else. There is absolutely nothing more important to me than keeping your precious little love safe during his or her newborn session. I have nearly 14 years experience working with newborn babies and have invested thousands of dollars in training workshops. I am constantly learning and perfecting my skill level and craft.
Specializing in Posed Newborn Photography.
When choosing the best newborn photographer near Camp Hill PA you will most certainly want to know that handling newborns is their area of expertise. Therefore, you'll want to make sure that posing newborn babies is what your photographer specializes in. Professional newborn photographers should have the very specific and specialized training that is necessary when handling and posing tiny babies. An experienced newborn photographer will know how to sooth, position and pose your baby in the safest way. There are many genres of photography. Just because someone owns a camera and calls themselves a photographer does not mean they have the specialized training necessary to photograph a newborn. Quite like you would not seek the care of a cardiologist to deliver your baby even though they are both doctors – you likely won't seek a wedding photographer or a family friend with a nice camera to photograph your baby.
The Location and Style
Each and every professional newborn photographer will have their very own special, unique style. Your newborn's portraits will be something you have to look back on to remember and cherish for your entire lifetime. Therefore, it's very important to choose a photographer with a style and images that tug at your heart strings. These images of your baby will be on display on your walls for many years to come, so be sure to select a photographer with a style that you love! I specialize in posed newborn photography and enjoy turning images of your most precious creation into works of art.
How far is the photographer's studio located from your home? If you're located in Central PA and looking for studio newborn photography near Mechanicsburg, Harrisburg or Camp Hill then my cozy newborn studio is just a short car ride away.
Investment and Artwork. "Full Service" vs "All-Inclusive" Newborn Photography
Newborn photography prices are based on a variety of factors such as the photographer's experience and training, the quality of their work, the amount of time they spend working with each client throughout their portrait process, a customized-full service experience vs. a generic all- inclusive, product offering and quality, and design services offered.
I am a custom, full service newborn photographer. My focus is on a quality experience and product. I walk my clients through the entire portrait process from start to finish. From our initial phone conversation, through consultation, newborn photo session, ordering appointment and the delivery of your portrait art. I put great time, love and care into your newborn photography experience. It is my belief that any great product or service takes time when done well. I spend about 40 hours with each client from start to finish, making sure each of them receive exceptional quality and care, and a product that will help you remember your baby as a newborn, forever.
You can find newborn photography priced anywhere from a few hundred to a few thousand dollars, depending on the photographer and type of service they offer. A client of mine can typically expect to invest an amount between $2000 and $10,000 (although some spend a bit more or less) on a variety of portrait art such as beautiful framed prints, Italian wall art, heirloom albums, and keepsake folio display cases.
Professional newborn photography is an incredible luxury and a worthwhile investment in this wonderful time in your life! Your baby will only be so tiny for such a short time.
Am I the best Camp Hill Newborn Photographer for you?
Find out! I would love to share more about my custom newborn photography experience with you, and answer any questions you may have for me! The best way to start is to get in touch with me by filling out my short contact form HERE. You can expect a phone call from me so that we can chat about the details and to set up a time for you to come to the studio for a newborn photography consultation. I can't wait to connect with you!
Karissa Zimmer is an experienced professional newborn photographer based in Camp Hill and serving the surrounding areas, including Mechanicsburg, Harrisburg, Hershey and Carlisle.