Newborn photography is truly a once-in-a-lifetime opportunity to preserve this incredibly special and brief time in your baby's life. You only get one chance for these sentimental portraits, so of course, you want to make the most of this opportunity. And who's the expert in making the most of your session? Your newborn photographer, of course!
As you're hiring a newborn photographer in Camp Hill PA or wherever you are, asking the right questions can allow you to enjoy a smoother process with outstanding results. To help you make that happen, I'm laying out the top questions to ask your newborn photographer.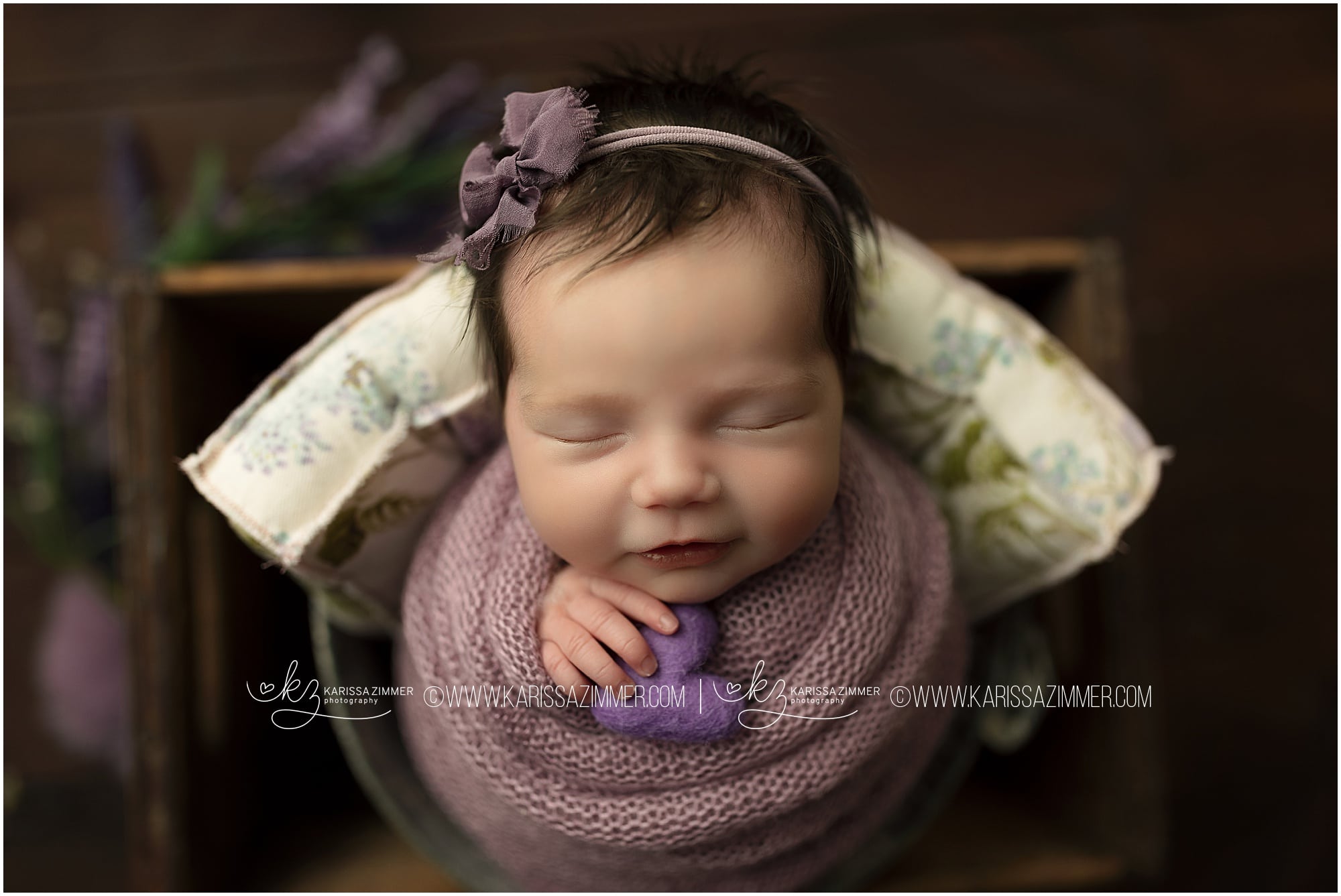 What Can I Expect from the Process Ahead?
Every photographer has their own process and their own steps they follow. Will there be an in-person consultation or just a chat over the phone? How long will your photo session be? When and how will you be able to order your finished products? This varies for each photographer, so it's not a good idea to make assumptions.
As an example, here's a rundown of my process:
In-person Consultation – We'll chat about how to prepare for your session and what to expect during your session, as well as your vision for your newborn portraits and the ways you want to use your finished portraits (where you might want to hang them in your home, for instance) so I can customize your session to fit your vision.
Your Newborn Photo Session – We'll meet in my comfortable and well-equipped home studio, starting in the morning for a relaxed session of up to six hours so we can allow as much time as you need for feeding and soothing your baby between shots.
Editing – I'll custom edit the best photos from your session to give you that true "wow" factor.
Viewing and Ordering Appointment – You'll return to my studio for your appointment about two weeks after your photo session, where I'll present you with a slideshow with all your amazing newborn photos and you'll decide what finished products you want to order
Delivery – I'll deliver your finished heirloom-quality products to you about 4-6 weeks after your ordering appointment and help you hang your pieces in your home so you can enjoy them immediately.
How Should I Prepare for My Newborn Photo Session?
In newborn photography, I recognize that many of my clients have never had a newborn photo session before, and for those who have, it was probably years ago. Make sure you're receiving clear guidance about how to prepare for your session. For example, is there an ideal time you should feed your baby before the session? Should you try to get your baby to sleep when you arrive? Is there anything you should do or avoid to make sure your baby is feeling and looking picture-perfect?
What Should I Bring to My Newborn Photography Session?
As you saw above, my newborn photography sessions can last up to six hours. Babies have so many "accessories" they need over that amount of time, and so do new mamas – diapers, wipes, potentially a breast pump, snacks, and so on. There might also be specific items you want to incorporate into your newborn portraits, like family heirlooms or other items of significance. Make sure you get a list from your newborn photographer of anything they suggest that you bring to your session.
Can Parents and Siblings Be in the Newborn Photos?
Some families want the spotlight to be entirely on their new baby, while others want their photos to show this special moment in life for the entire family. Make sure you ask about this in advance so you know who to bring to your session and who should be picture-ready.
Each photographer has different policies, but I include parents in newborn portraits for no additional fee. For families with other children, I recommend my add-on sibling portrait session. This one to two-hour lifestyle session will take place at your home within one week of your newborn photo session. This way, your kids can be where they're comfortable and you don't have to bring them to your six-hour newborn session and keep them occupied for that length of time.
What Types of Photo Products Do You Offer as a Newborn Photographer?
Ultimately, the most magical part of newborn photography is having high-quality items that will last for generations. Make sure you know what your options will be, because each photographer sources these items from different artisans or businesses, and some don't handle finished products at all. At my studio, for example, I proudly offer fine art custom framed prints, well-crafted Italian wall art, customized heirloom albums, mounted prints, and more.
Getting the Scoop from Your Newborn Photographer
As you're hiring a newborn photographer, the questions you ask will set you up for an easier, less stressful process because you'll have a clear understanding of the road ahead. Finding the right questions to ask your newborn photographer is the first step. Use the questions above to get the best results from your newborn portrait session. If you're in the market for a photographer, schedule your newborn photography session with me in Harrisburg, PA today.