Your baby's first birthday is an exciting occasion that deserves to be celebrated! The tradition of a cake smash portrait session is always a fun one, but some parents want to make their babies' photos stand out or make them more personal. How can you mix it up for your baby's Mechanicsburg first birthday photos? Try these creative ideas.
Bring In Your Own Personality
You have a one-of-a-kind personality as a family, so why shouldn't your baby's portraits match? Instead of sticking with a classic look for your cake smash, think about what makes you and your family unique. I'm always happy to create a session in your style, whether that's earthy, modern and chic, girly, sporty, or anything else.

Consider a Fun Theme for Your Mechanicsburg First Birthday Photos
Get truly adventurous and try out a themed photo session. The theme could be anything – a visual theme like boho or the '80s, a movie or TV show, a holiday, and so on. The right combination of wardrobe pieces and set designs can bring your theme to life and make your baby's portraits unforgettable.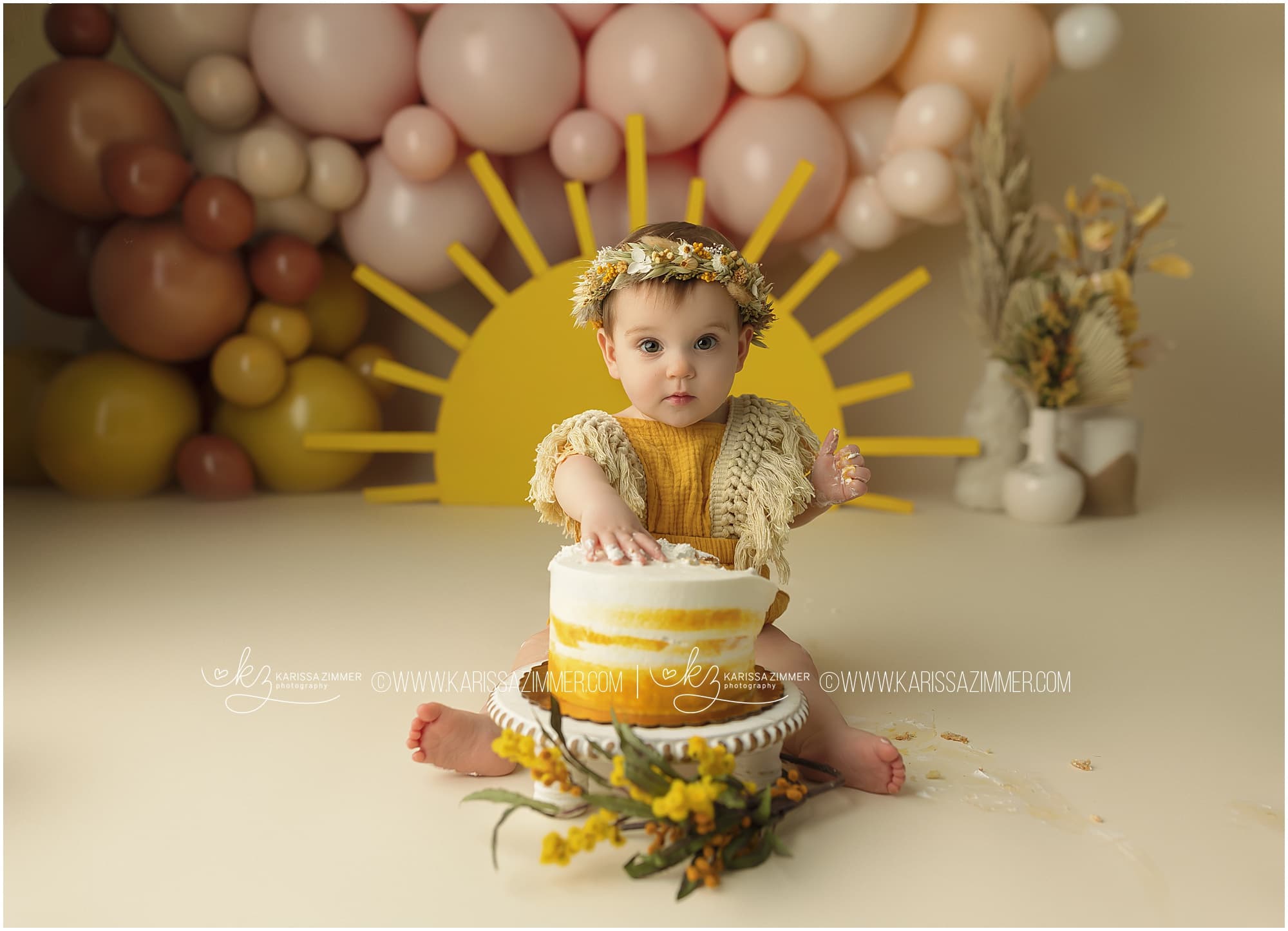 Try a "Non-Cake" Smash
Who says cake smash photos have to have a cake? Some families mix it up by having their babies smash something different. It could be a plate of pasta, a pie, doughnuts, or pancakes. You could try non-food items, too, like a sand castle, playdough, or non-toxic paints.
Collaborate with Your Photographer to Design Your Mechanicsburg First Birthday Photos
Not sure how to make your baby's one-year portraits stand out? I'm happy to help! Photographers are artists after all, and I love to work my creative muscles and design a truly unique session. Take the featured photo session in this blog for example – one of my all-time favorites! Mom and I had a blast planning her little girl's "Here Comes the Sun" themed session. I put a lot of love into the design and even had my daughter help by making the balloon garland.
Ready to get creative? Contact Karissa Zimmer Photography and let's start dreaming up your session!